The European Agroforestry Conference is an event organized every two years by EURAF. The conferences aim to provide a platform for people from diverse backgrounds to present, discuss, and debate critical issues related to agroforestry.
3rd European Agroforestry Conference: Celebrating 20 years of Agroforestry research in Europe.

SAVE THE DATE: 23-25 May 2016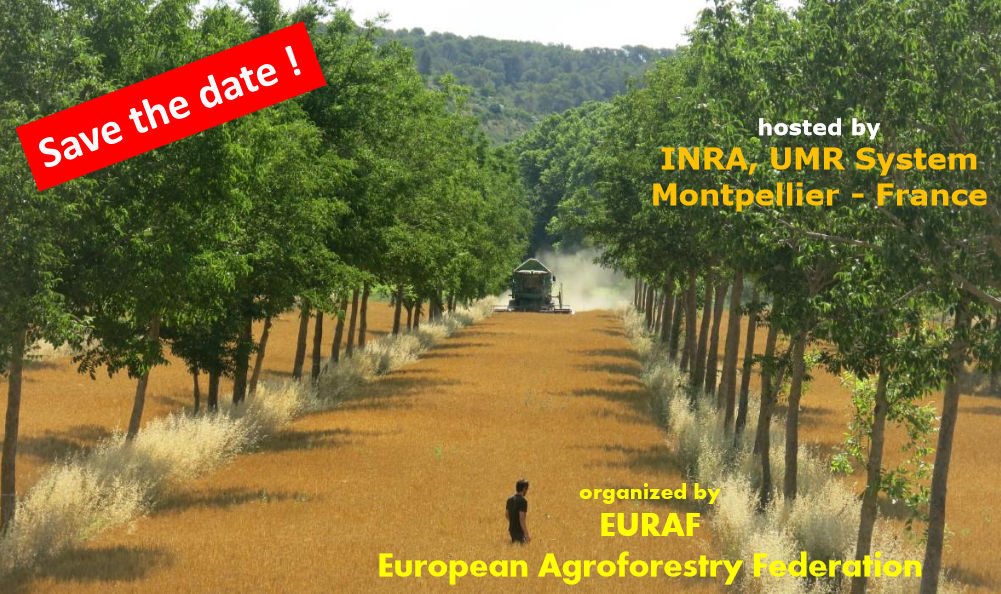 Location: Montpellier, France

Details: http://www.agroforestry.eu/action/conferences/III_EURAFConference

The 1st European Agroforestry Conference took place in Brussels (Belgium) from October 9-10, 2012, under the subject: "PRIORITIES FOR EUROPEAN AGROFORESTRY". Please follow the link to discover the Book of Abstracts and a wide variety of presentations:
Session 1: Innovative avenues for agroforestry in Europe in the next decade: research, development and policy
Session 2: Hot spots, What's going on in Europe for agroforestry?
Session 3: "Agroforestry: Trees for a Sustainable European Agriculture" Meeting with European stakeholders
Session 4: Fresh progress, novel evidence. What's going on in Europe for agroforestry?
Session 5:  Building European consortia to address European calls dealing with agroforestry.
The 2nd European Agroforestry Conference took place from 4 to 6 June 2014 in Cottbus (Germany), under the subject of: 'INTEGRATING SCIENCE & POLICY TO PROMOTE AGROFORESTRY IN PRACTICE'. Follow the link to discover the conference book, presentations and poster presentations: 
Session 1: New insights into carbon, water and nutrient cycling in agroforestry
Session 2: Policy proposals and impacts
Session 3: Environmental benefits provided by agroforestry
Session 4: Agroforestry for land reclamation
Session 5: Innovative solutions for sustainable agriculture with agroforestry