10 Jan 2018
Duration:
January, 2014
to
December, 2017
Role of EURAF:
In this project EURAF is particularly involved in the policy and dissemination workpackages. Please follow the link to learn more about EURAF's activities within the AGFORWARD consortium in 2014.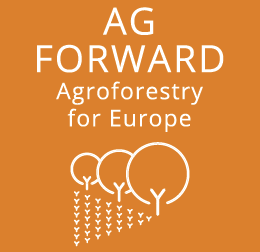 AGFORWARD (AGroFORestry that Will Advance Rural Development) is a large four-year project funded by the European Union's Seventh Framework Programme for Research and Technological Development (FP7). Twenty-six partners work under the coordination of Cranfield University. It started in January 2014 and will continue until December 2017. The objectives of the project are:
To understand the context and extent of agroforestry systems in Europe;
To identify, develop and field-test innovations to improve the benefits and viability of agroforestry systems in Europe;
To evaluate innovative agroforestry designs and practices for locations where agroforestry is currently not-practised or is declining, and to quantify the opportunities for uptake at a field-, farm- and landscape-scale.
To promote the wider adoption of appropriate agroforestry systems in Europe through policy development and dissemination (such as on this website).