Introduction of a Hungarian Family farm - Tüzkövesbörc Farm (Hungary)
Wakelyns Agroforestry - a diverse organic silvoarable system in the UK
Agroforestry on municipally owned sites - example Donzdorf (Germany)
Herdade do Freixo do Meio (Portugal)
The Hamada Acorn Initiative on Kea Island (Greece)
Agroforestry on contour swales in Flanders: Venturing into Aquaculture? (Belgium)
Bachetoni Farm - Azienda Agricola Antonio Bachetoni (Italy)
---
Introduction of a Hungarian farmer family, Tüzkövesbörc Farm

by Anna Varga, MTA ÖK ÖBI, NyME KKK, Tihany, Hungary, April 2015.
Like in other parts of Europe, wood pastures and silvopastoral systems were integral parts of traditional land use patterns and extensive livestock keeping for thousands of years in Hungary. This type of land management was a dominant feature up to the mid-twentieth century. The underlying causes for its deterioration include industrialisation, intensive forestry management and agriculture. These man-made interventions led to the elimination of extensive livestock farming and abandonment of wood pastures. As a result pastures became shrubby and reforested.
The same story applied to the pasture in the outskirts of Pénzesgyőr-Hárskút communities and the adjacent farmsteads of Szentgál, before a ranger turned farmer 'Tibor Nagy' and his family moved in and started to manage Tűzkövesbörc Farm. As a conservationist, Tibor Nagy was faced with practical issues related to high nature value farming. He started to keep livestock to gain experience on the feasibility of practical implementation of nature conservation objectives and requirements. At this time he farmed protected but treeless grassland in the plains, not a wooded pasture. Implementation of nature conservation objectives did not cause any significant problem for his husbandry, however, changeable and unpredictable weather did. He and his family decided to look for pastures in the country where weather and climate change have less discernible impacts. This is how they found the abandoned wooded pasture in the Bakony, with many beech and hornbeam trees and even more distinct owners. Having purchased the land they began cutting shrubs and grazing livestock 8 years ago. Shrubs – typically hawthorn, blackthorn, hedge rose, wild pear – are cut by machine and chainsaw. Attention is paid to leave tree re-growth in place and to provide natural protection by retaining some thorny bushes. Ancient, crumbling, trees are left in the area consciously.
 

The farmer with his daughter riding a buffalo.

Renewed wood pasture with ancient, crumbling, trees left deliberately in the area (Tűzkövesbörc Farm)

The farmer's daughter with a Hucul horse.
The main aim of their farming is to preserve the genetic stock of native breeds and to produce breeders. They follow the retaining selection principle for which the appropriate environment is provided by the wooded pasture. Livestock is kept outdoors all year round. In extreme weather and during calving and lambing season livestock are sheltered by trees, woodlots, thicker forest stands and not by constructions or buildings. Grazing is arranged in grazing pens supplemented with some pasturing. Traditional native breeds are kept, namely, Hungarian Grey Cattle, Hucul horses, Cikta sheep, Cigája sheep, Buffalo, Hungarian goats, Komondor dogs, Bukovinai herder dogs and Hungarian vizsla dogs.
Their products were first marketed for export and after this they managed with great effort to get their meat and dairy products onto the domestic market. Partly they sell on the local market (Akli Major piac, Zirc) nearby, and also by direct marketing strategies. More recently they started to popularise the use of the long forgotten and special wool of the Cikta sheep, collaborating with a local folk art association (Fehérvéri Kézművesek Egyesülete).
On top of all that, transfer of the know-how related to the revitalisation of wood pastures is considered the most important task, a traditional knowledge base vanishing across Europe causing the biggest problem when traditional agricultural activities are at stake. You can even say that the rebirth of the lost traditional ecological knowledge was associated with abandoned former wooded pastures. Family life is intertwined with the operation of wood pastures as a matter of course, to be thanked partly to the fact that their house sits in a corner of the pasture. On the other hand, the local school provides an opportunity to learn at home, thus the children are able to gain their own experiences on and learn from their parents the management of wood pastures each day of the year and under any kind of weather conditions.
 Vica, Tibor's wife sells their agroforestry farm products in the local market in Tűzkövestanya
 "Reforestation of wooded pastures is a natural process; therefore you must not disregard the natural processes when you reactivate them. A wooded pasture is not only a foraging ground for the grazing livestock. When we use a wooded pasture, we have to live with the land and let nature come in. The beginning is not easy, it needs resources and workmanship. When lacking professionalism, advice from the nature conservation agricultural consultant is needed." (words of Tibor Nagy)
"If you listen, the land will return such attention manifold in terms of mushrooms, dewberry jam, beauty, the fragrance of violets, song of birds, and the living space sound for both man and livestock."(quote by Nagy Tiborné, the farmer's wife).
We invite you to discover the following web-links for further information:
·         Tűzkövesbörc Tanya Farm on Facebook (link)
·         Market with local products in Akli Major piac, Zirc (link)
·         The local folk art association "Fehérvéri Kézművesek Egyesülete" (link)
---
Wakelyns Agroforestry - a diverse organic silvoarable system in the UK
by Prof. Martin Wolfe, owner of Wakelyns Agroforestry, Principal Scientific Advisor of the Organic Research Centre (UK), March 2015.
The background

A research career in cereal plant pathology convinced me of the value of focused diversity in minimising crop disease, which we were able to demonstrate through several large-scale developments in the use of cereal variety mixtures in the UK, the German Democratic Republic and other countries through the 1970's and 1980's. From this background and, of course, the work of Charles Darwin and others, it was no great leap of imagination to see the value of such functional diversity, not only for controlling diseases, pests and weeds, but also at higher levels in terms of mixed cropping and, ultimately, of agroforestry.
The opportunity to put these integrating thoughts into practice came in the early 1990's when, while living in Switzerland, we bought Wakelyns, a small (23ha) farm in east Suffolk, in the intensive cereal production area of the east of England. The main planting of timber trees was organised for early 1994, with further plantings in 1995 (hazel) and 1998 (willow). Before returning to England in 1997, we also started organic conversion of the whole farm. From earlier contacts with Elm Farm Research Centre (now ORC: the Organic Research Centre), it seemed mutually desirable to focus EFRC's arable crop projects and trials at Wakelyns, which was started formally in 1998. 
The general layout of the farm (Google Earth UK postcode IP21 5SD) is a series of 2 ha alley-cropping systems, with all production hedges aligned north-south on each side of 12m wide cropping areas. There are two coppice systems (hazel, willow), two mixed hardwood systems (ash, hornbeam, Italian alder, oak, small-leaved lime, sycamore, wild cherry, with or without apple) and two mixed fruit and nut systems. The organic crop rotation (cereals-ley-potatoes/squash-ley-cereals) runs as a single cycle around the whole farm.
 Mixed timber and apple silvoarable system, Wakelyns Agroforestry

Some successes - and some difficulties
Given the lack of information to begin with, and the current lack of sophisticated monitoring tools, the approach appears to have been successful with high outputs of timber production, relatively small impacts on crop production and obvious positive effects on soil quality and biodiversity.  The main negative effect has been the limitation on cultivation potential, since all operations are limited to the north-south direction. Weed control is a major feature of the production systems, but this is no different from what would be expected generally in organic farming. It is likely that the negative effect of tree shade on the crops has been offset by positive effects of shelter, nutrient cycling, etc. Potential negative effects of competition for water appear to have been offset by a generally adequate supply of water and improved soil penetrability.
One particular, but expected, success, was the positive impact on apple diseases and pests of dispersal of the apple trees among the other seven tree species. This provided spatial dispersion of the apple target trees as well as physical buffering of the spread of apple pests and pathogens by the non-host trees and crops. Disease assessments carried out in 2012 as part of the EU project Co-Free recorded levels of apple scab (Venturia inequalis) in the agroforestry were less than half those in a nearby modern organic orchard (Smith et al, 2014). Though not tested, it is reasonable to assume that specialised pests and diseases of each of the other tree species, would have been similarly limited.
A related observation has been the impact of the production hedges on disease spread in the alley crops. In particular, we have observed, over several seasons, the way in which trees can provide a physical barrier to help limit the spread of potato blight from west to east – which would not have occurred with standard open field crops.
Martin on the plot combine harvesting cereals in the willow Short Rotation Coppice, Wakelyns Agroforestry
A major success over the whole period has been development of the coppice systems. This allowed us (almost 10 years ago) to install a woodchip boiler system to generate sustainable and renewable energy for central heating and hot water in the farmhouse. In this context, it is important to underline that the coppice hedges provide many services (better microclimate, pest and disease protection, nutrient cycling, biodiversity habitat) before they deliver coppiced woodchip. Moreover, the alley system ensures a yield of wood per square metre that is well in excess of yields from plantation coppice. In this context we are currently turning to more pollarding as the major method of management for the hardwood trees, both to limit shading of the alley crops and to increase potential fuel production (see below).
Overall, there has been a major increase of biodiversity on the farm which has been positively affected by the tree population. This is evident among both birds and bees, helped by the large proportion of mixed legumes in the crop rotation. Among the birds, it is clear that the site is now more attractive both to typical woodland birds and to those found in lowland arable farms. We regularly see barn and tawny owls, together with buzzards, which indicates an effective food pyramid on the relatively small area of the farm.
In recent years, we have also become increasingly aware of tree regeneration in the production hedges, leading to large numbers of healthy young trees covering all of the species planted, though with changed proportions. Some of these are being replaced by fruit bushes in the understorey.
 Potatoes and hazel short rotation coppice silvoarable system, Wakelyns Agroforestry
Future development
One element that has been notably absent so far has been livestock, since we had neither facilities not expertise available to develop such enterprises. A first step in correcting this omission is the introduction of organic, low density, poultry for egg production, using several breeds, with replacements now being bred on-site. The birds are fenced into long alley strips which include the tree hedge as the central element, clearly favoured by the birds because of the shelter from predators and the food and nutrient-rich understorey of the trees. We will shortly begin to rotate the poultry strips around the crop and tree rotations to try to follow the impact of the poultry particularly on pests and weeds.
In terms of the crop-tree interface, we have experiential evidence that oats is much less disturbed by tree proximity than are the other major cereals. However, among all species there is the possibility of breeding and selecting for the ability to grow well in the proximity of trees. Indeed, we have already taken the first steps in this direction through use of our newly developed wheat populations.   These are highly diverse so that it is possible to identify and tag individual plants that grow well close to trees. These individuals can be used to create a mixture of wheat genotypes with this ability. Although such diversity certainly exists, we do not know the mechanisms, whether it is shade tolerance, tolerance of water competition, annual-perennial root interactions, or some combination of these and other factors. By selecting the wheat for the ability to grow near any trees, it may be possible to generate a mixture which could be marketed separately for production in a strip close to any hedge in addition to the agroforestry production hedges. This innovation is being researched as part of the EU project AGFORWARD (www.agforward.eu).
One of the most exciting potential developments from increased coppicing and pollarding is the possibility of generating sufficient woodchip to feed an on-farm CHP (combined heat and power) unit, or, in other words, to use agroforestry as a source of renewable electrical as well as heat energy. This could be used as a way of controlling the variable output of on-farm solar and wind systems. Again, it is important to stress that such energy production would be a by-product of a system that is already delivering a range of valuable services.
In this context, it is of crucial importance for the long-term, to record, assess and accumulate the multiple outputs and benefits of such complex systems. One way to do this may be to assess the potential for the contribution of the multiple outputs to local food systems, local economies and local health and welfare.
---
Agroforestry on municipally owned sites - example Donzdorf (Germany)
by Georg Krause, Donzdorf's environmental officer and Anja Chalmin, February 2015
Donzdorf is a city of 11.000 inhabitants in the Stuttgart area of Germany at the fringe of the Schwäbische Alb mountains. The region is located in the transitional zone between urban and rural area and characterized by its traditional fruit orchards.
Between 2007 and 2010 the city established five agroforestry plots with trees for valuable timber production on city-owned land, sized 0,15 to 0,75 ha. The city decided for valuable timber trees, among other reasons because it couldn't guarantee the maintenance of traditional orchard trees on the selected plots in the long-term.
The following tree species were planted, the bolded tree species are prevailing:
-        - Wild fruit trees: Prunus avium, Sorbus torminalis, Sorbus domestica, Malus sylvestris
- Traditional, fast-growing fruit varieties: pears ('Gute Graue', 'Palmischbirne', 'Gellerts Butterbirne'), plums "Bühler Frühzwetschge', 'Ersinger Frühzwetschge'  
- Walnuts : Juglans regia, Juglans nigra, Juglans x intermedia
- Black alder (Alnus glutinosa)
The trees were planted on extensive grassland. The land is mown, mulched and/or grassed by sheep.
Traditonal pear tree 'Gute Graue', Prunus avium, Juglans x intermedia, Sorbus domestica

Georg Krause, Donzdorf's environmental officer, explained that the agroforestry plots with valuable timber trees are not an alternative to traditional orchards, but a possible additional form of landuse.  Due to the use of fast-growing fruit varieties the plots resemble the traditional orchards and fit into the local landscape. The tree's ecological value is very important for the city: Georg Krause assumes that not all trees will show perfect growth; the trees concerned will not be replaced but can remain as habitat trees. He also explained that cultural landscapes with orchards were once developed and cultivated by man. Nowadays many orchards are in poor conditions or even disappear, e.g. because the market situation for orchard fruits is depressed. Using fruit trees to produce valuable timber generates an additional value and brings back the concept of use to areas with fruit trees.
In the meanwhile two of the plots have been approved as an eco-account (compensation balance) measure by the responsible local nature conservation authority. One of the areas is a 0,75 ha plot, planted in 2009 and 2010 with traditional orchard varieties, Prunus avium, Sorbus torminalis, Sorbus domestica, Juglans regia and Juglans x intermedia. The land is grassed by sheep.  The distance between tree rows is 15m and within the rows 11m. The area integrates five traditional orchard trees. For the measure the city volunteered to make the following commitments:
-          Long-term preservation of remaining traditional orchard trees;
-          Permanent extensification of understory (grassland);
-          Trees can be cut at the earliest after 60 years, cut trees need to be replaced;
-          No clear cuts. Different tree species have varied growth rates, therefore a continuous regeneration of the tree stock is guaranteed;
-          10 % of trees remain untouched as habitat trees;
-          Installation of 5 nesting aids.
 Grasslands with valuable timber trees around Donzdorf

When asked for practical tips for other communities or farmers, Georg Krause shared the following points: You have to pay sufficient attention to the trees in the establishment phase, mainly for pruning and tree protection measures. In the first years pruning requires sufficient time to examine the trees, e.g.  Prunus avium and Sorbus torminalis grow very differently. The initially used wire meshes were repeatingly damaged while mowing or sheep rubbed against them and this led to tilted trees.  For this reason Georg Krause is now installing more resistive protection (see above figures). Bent terminal leaders are a problem on one plot without grove structures in the surrounding. The trees are used as raised hides, e.g. by red-backed shrike, yellowhammer and dunnocks. Larger poles attached to the tree protection may be a possible solution in rather featureless landscapes.
Although working intensive in the establishment phase the management of the valuable timber plots can be mastered more easily by the city in the long-term compared to traditional orchards, e.g. longer trunks facilitate the management of the grassland and pruning is less labour intensive. This is one of the reasons why this new approach found broad approval and support within the local community and administration.
---
Herdade do Freixo do Meio (Portugal)

by Josep Crous-Duran, Joao HN Palma and Alfredo Sendim, January 2015. 
The Herdade do Freixo do Meio (HFM) is a farm located in Montemor-o-Novo in Portugal that manages 440 ha of cork oak and holm oak Montado agroforestry systems. The farm also includes portions of irrigated land, vineyards, olive groves and biodiverse pastures and enables to produce nearly all the ingredients of the Mediterranean diet with the exceptions of milk and fish. The HFM is considered an example of a multifunctional farm based on an agroforestry system in Portugal and remains one of the few economic viable projects on the area.
Image of the Montado system at the HFM.  Source: l-andvineyards.com
After being confiscated in 1974 during the Carnation Revolution, HFM was returned to the former owners in 1990 and since then tried to bring a new way of managing this heritage guided by the ethics of respect for the people and for the environment. The challenge of the new project was to efficiently manage a very ancient agroforestry system in Portugal by combining ancestral knowledge and sustainable practices and adapt it to the idiosyncrasy of the XXI century. The project seeks an economic sustainability along with the actual practice of appropriate social and environmental policies despite the hegemony of the economic markets that look for the maximization of profits at high environmental and social costs.
When the new project began in 1990, Alfredo Cunhal Sendim, the representative of the owners and new responsible, found the farm in weak conditions with a poor soil, erosion problems and a Montado with low levels of productivity. His first action was to ensure the recovery and maintenance of the quality of the soil as the base for increasing the productivity. The next step was the implementation of a new strategy with the unique goal of finding a sustained maximization of the management efficiency, considering the social-environmental-energy issues in order to achieve an economic stability. The new strategy was based in 4 basic pillars:
-          Diversification: taking advantage of the structure of the Montado offering a multifunctional environment to increase the possible uses of the land and activities and therefore the sources of revenue. Example: tourist activities and environmental education.
-          Differentiation: using local breeds, regional varieties and traditional treatments adding value to the final product. Also by using innovative and more sustainable techniques such as organic agriculture.
-          Efficiency: improving the efficiency of the processes by adopting professional management and qualified workers, increasing the knowledge and welcoming the use of new sustainable technologies and sources of energy.
-          Verticalization: considering the inclusion of all the steps of the product processing from field to final consumer including the opening of an own shop.
Since 2008, HFM acts also as an economic active agent by embracing autonomous but complementary projects that strengthen the system as a whole and increase the amount of products available from the farm. The independent projects include a 4.5 ha aromatic and medicinal garden (2011), home-made bags and complements (2011), 2 ha of a horticulture garden and 5 ha of orchards (2011), free-range chicken production with a movable chicken house (2012) and a centre for artistic animations, storytelling and pedagogical workshops (2012).
HFM also implemented several projects concerning alternative sources of energy: solar, wind and recycled diesel. It acts as an eco-tourism centre hosting an eco-camping and organizing several pedagogical activities related to agriculture per year. It also supports scientific research project innovations (AGFORWARD since 2014) and PhD experimental plans (3 since 2011).
Nowadays the farm includes 7 types of activities (see table 1), produces around 300 different products and employs 12 workers directly and 8 through the associate projects. Four times more than the farms located around dedicated to intensive agriculture. The average budget of the farm for the last years has been around 0.5 million €/year (See Fig 7 for a monthly breakdown).
Average monthly budget of HFM (€)                                                     Mandala including all services offered by HFM
Interested to see a variety of pictures of and to learn more about HFM and Montado in Portugal? Please follow this link to download Alfredo Sendim's presentation (06/2014).
---
The Hamada Acorn Initiative on Kea Island (Greece)

by Marcie Mayer, Founder of the Hamada Acorn Initiative, December 2014

The Hamada Acorn Initiative began as an effort to bring acorn awareness to the minds of local residents and people worldwide, through international crowd funding and a frequently updated website. Creating sustainable opportunities for oak-based income for farmers on Kea Island in Greece was the best and most immediate way to protect the trees, especially as the economic crisis hit and trees rapidly became used for firewood. As the project grew, and more farm families got involved, two separate entities evolved. The first, a non-profit organization "HAMADA ACORN INITIATIVE" to oversee the annual acorn cap exportation to Germany, India & Greece. The second, a private company, based at the Red Tractor Farm, for producing acorn flour, acorn cookies and other baked acorn goods. The Red Tractor Farm is an agrotourism project including professional food catering.
Quercus ithaburensis, Valonia oak, have enourmous
acorns weighing up to 40g each.  Photo: Marcie Mayer

In 2014, forty-two farming families collected thirty six tons of giant acorn caps from the Valonia oak stands on Kea for the third annual exportation. All of Kea's indigenous oak forest is privately owned and despite being a Natura 2000 site, entire trees have been removed rapidly without respect to proper forest regeneration since the mid-1960s when farmers were cut off from the centuries old tradition of exporting acorn caps to the leather tanning industry in Europe.[1] In recent years there has been a renewed interest in vegetable tanning methods of which oak is considered the very finest. Leather-related industries are the fifth largest industry sector globally.[2]
After only three years the Hamada Acorn Initiative has begun to take on a life of its own as local farmers take their own initiatives to introduce oak-friendly methods. Ten black acorn foraging pigs were acquired from central Greece and reintroduced by the Kea Farmer's Association in December 2013.
A brief outline of the Hamada Acorn Initiative's activities: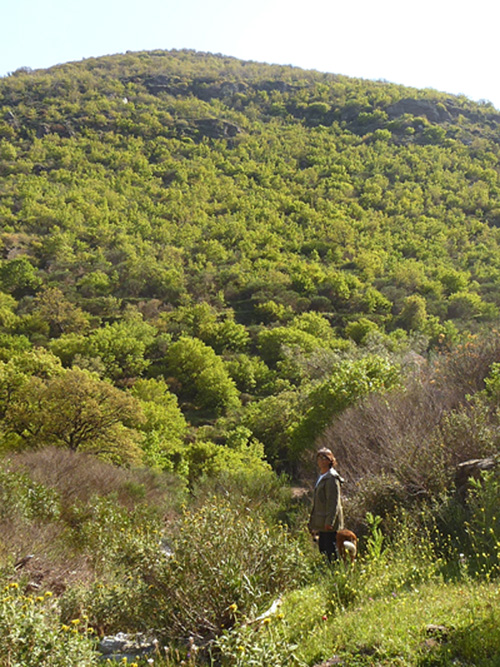 Oak Conservation:
-          Education & Awareness: Community Meetings, Seminars
-          Sustainable Opportunities for Oak based Income: acorn caps & acorns
Acorn Research & Development:
-          Nutritional Documentation
-          Optimum Processing Procedures
-          Product Development
-          Practical Support (mentoring worldwide) & Networking
Community Outreach:
-          Annual Acorn Festival
-          Free hulling service to local residents for animal feed
-          Acorn Center & Acorn Bakery & Craft Center
-          School visits
-          International Intern Program for acorn gathering & processing
Marcie Mayer and an Oak covered hill on Kea. Photo: Kostis Maroulis
I've spent over a decade gathering and experimenting with acorn processing methods, testing and finally developing a 6 day method for producing 400 kilos of gluten free acorn flour from stored acorns. From Native American and Korean recipes I first explored possibilities with aromatic acorn flour and recently launched my first product, Acorn Cookies. I maintain a comprehensive website concerning acorns through which I've made many connections all around the world and I am now consulting several Native American Tribes about promoting their acorn products.
The key to creating long-term sustainable prosperity for rural areas in Greece needs to be based on the unique strength and diversity of local communities and built on solidarity, not competition. In the 21st Century rural areas face the multiple challenges of producing food, restoring and protecting the ecosystem and producing energy as oil reserves dwindle. Truly resilient systems must be based on strong social cohesion at the local level. The structural framework for the Hamada Acorn Initiative can be seen in the graph below:  
Diagram of current Acorn Activities (non-profit and for profit) on Kea Island.
Island people take as a gift the new outside interest in sustainable systems built on social currency. Every farmer knows that diversity is the key to resilience in an agriculturally-based economy. The Farmer's Association on Kea was quick to respond and support my efforts when first alerted to the possibility of reigniting the annual acorn cap exportation. The oldest generation on Kea was particularly supportive and shared their knowledge of harvesting and storage techniques.
The Hamada Acorn Initiative was created to spread the word that the ancient oak forest on Kea is unique, worth protecting and can easily become a sustainable source of income for local farmers. The project began as a simple appeal and awareness campaign to stop indiscriminate felling of indigenous oaks. The campaign was first launched in May 2011 and in just a few years many objectives have been met and surpassed. The giant acorns and acorn caps of Kea have created new sustainable income for the island's farmers and a greater awareness of new possibilities for the silvopastoral forest we live near as a unique and benevolent ecosystem.
Farmers recently met with Dr. Pantera to discuss opportunities for responsible management of the forested areas. Dr Pantera's report on the Acorn Festival can be found here.
Crowdfunding campaign to establish a permanent home for the Acron Center on Kea at the port of Korissia.
The campaign ended on 30 December 2014.
---
Agroforestry on contour swales in Flanders: Venturing into Aquaculture? (Belgium)

By Jeroen Watté (Wervel), Patrick Worms (World Agroforestry Center), November 2014

On the hillside of the Rodeberg in Westouter the organic cattle farmer Rik Delhaye started establishing swales on his pasture land. Swales combine an on-contour ditch with a downslope berm. On the ditches he installs a polyculture system consisting of different storeys, from vegetables to berries to high-stem fruit trees.
The swales reduce erosion to zero: the landscape can rehydrate again and nutrients stay on the land. The water retention capacity on the landscape increases which enables venturing into land-based aquaculture.
Swale or ditch-berm structure in Heuvelland, Flanders established in late spring 2014 on a pasture, with high-stem apple trees and understory of strawberries. Photo: Wervel.be CC BY-NC-ND 2.0
Step one: create farmland out of thin air
For a swale to function properly, the berm needs to be uncompacted. So how does one go about building a swale? Any earth-moving tool will do: a bulldozer with a loading bucket (aka drott), a spade, or anything in between. First, get exact measures of the site's contours using a laser/dumpy level or a simple A-frame. Then demarcate them with pegs or a lime line. You're ready to dig.
First benefit: the ditch-berm structure act as a crease that slightly enlarges the area of the field. Congratulations! You've just created farmland out of nothing.
Step two: problem water turns to solution
On sloping land, agriculture often leads to erosion. Soil particles and nutrients are washed downslope by the power of the water running unconstrained off the hill. The consequences are dire: groundwater levels, starved of infiltration, drop, while rivers, overloaded by the resulting floods, escape their banks. Roads become slippery with mud, drains clogged with silt. Valuable topsoil, sometimes charged with toxic phytosanitary products, disappears. And climate change won't help: more frequent floods and droughts are to be expected.
Degrading fields, drying out, producing ever less food. Polluted rivers. Flooded towns. Is that the future? Thankfully, it doesn't need to be that way. The low-tech swale can be part of the answer.
During heavy rainfall, excess water will accumulate in the ditch and immediately start infiltrating the berm. This recharges groundwater, helping plants withstand longer periods of drought. It means less water in the rivers, so fewer floods. And it stops erosion in its tracks: any topsoil carried off by a downpour is trapped by the swale's ditch and deposited there. When water is seen as a resource, it becomes obvious that it should flow as slowly as possible through the landscape.
Step three: agro-ecologically intensify the berm
The berm you've built must be of loose soil, ideally with the original topsoil placed on top, to increase drainage - and rooting. That berm becomes a perfect habitat for a great variety of annual and perennial crops. Key will be trees. They anchor the berm, and act like a free water pump: their roots facilitate the infiltration of water during rainfall and lift it up hydraulically during dry periods, to the benefit of anything else growing on that berm. Use that favourable environment by planting vegetables, herbs or berries between them. Increase your income by choosing half- or high stem fruit trees. One tip: start cultivating your berm with a leguminous crop. It'll suppress weeds and build up humus.
Step four: welcome back aquaculture
After some years, your swales will have recharged so much groundwater that you can go for the next step: aquaculture! Dig a few ponds in low-lying areas. Fed by the swale infrastructure, they will remain permanently filled with water - a great (and free!) drinking water source for grazing animals.  Now that you're getting the hang of things, you can become more ambitious.
Those swale ditches don't just capture water, but also topsoil and nutrients, thanks to which a whole host of microscopic creatures soon colonize the water. If you feed that water to your ponds, add some crayfish. They'll love it. (This was common practice for centuries, as the picture on the right attests). You can aim higher: move up the aquatic food chain and put carp or even zander into your ponds. The result will be a farm that has diversified away from a single crop and now produces fruit, meat and fish in addition to its main crop. That means extra income - and a buffer against swinging commodity prices.
Crayfish,  carp and other fish have been raised in Flemish village ponds for centuries.
(Huntres in the snow, Pieter Bruegel, 1565)
Step five: bask in everyone's approval
Because they are biodiverse lines in monotonous fields, your swales will naturally act like newly created nature corridors. Expect more pest-eating birds, pollinating insects… and nature-loving tourists, who will be ripe to buy some of your farms' local production. And from fruits to crayfish to meat, you'll have something to satisfy every palate.
---
Bachetoni Farm - Azienda Agricola Antonio Bachetoni (Italy)
by Adolfo Rosati, July 2012

Located in the Umbria region, the green heart of Italy, the farm produces the Umbrian's most typical products: Chianina (the famous ancient giant white cow) meat, black truffles and extravirgin olive oil. The cows graze in the forest (during the summer), feeding on natural vegetation, including the acorns produced by the abundant oaks. The meat is sold directly to the consumers at the farm butcher shop. Olive orchards and the farm mill allow the production of extravirgin olive oil. The olive cake obtained after processing the olives is first de-pitted and then fed to the cows. The pits separated from the cake make an excellent fuel, used on site and sold (100-120 € per ton).
Recently, taking advantage of local funding from the Region of Umbria (RDP, measure 1.2.4.) the farm has started raising poultry under the olive tree, where wild asparagus (Asparagus acutifolius), a local highly-estimated vegetable, is also grown. The poultry graze and weed the olive orchards and the asparagus (which they do not damage due the prickly vegetation of adult plants), while fertilizing the whole system. They also contribute to killing olive suckers and control asparagus parasites, such as the common asparagus beetle, Crioceris asparagi , and the spotted asparagus beetle, Crioceris duodecimpunctata. The poultry meat can be sold at the farm butchery. With this design, the farm does an excellent job at making the best synergy among crops, turning residues into resources and providing local (zero miles) high quality products.
Further information about the farm, in several languages, is available here.