28 Nov 2016
by Robert Borek (IUNG-PIB)
"Juchowo Farm" is a large-scale farm in North-Western Poland near Szczecinek, established in 2000, operating on nearly 2,000 hectares of land. It is one of the best examples of a multifunctional farm in Poland and is a forerunner in the introduction of modern agroforestry practices in this part of Europe. "Juchowo Farm" is a biodynamic farm with a strongly diversified agricultural production. It consists of 1,450 ha of arable land, 340 ha of grasslands, 140 ha of forests and trees outside forests and 7.5 ha of vegetables garden (2016). The main source of income for the farm is the production and sale of biodynamic milk. Almost 700 head of cattle are kept here. Additionally, 77 other biodynamic products are sold directly at the farm, including different types of bread, cheese, herbs, fruit syrups and vegetables. The farm employs approximately 90 workers including 6 mentally disabled people. Another 30 people work regularly at a therapeutic base at "Juchowo Farm". Owner is the Stanisław Karłowski Foundation, whose statutory goals are enhancement of soil fertility and renewal of social and economic life of rural areas in the context of social three folding. The foundation is managing a long-term rural project in Juchowo, combining different activities including agriculture, processing, education, pedagogic, social therapy and on-farm research.
The farm is located on poor sandy post-glacial soils. Inadequate management of the soils may lead to ineffective intensification of farming and adverse environmental impact. Hence, on the one hand, particular attention is given to soil improvement by using own compost, practicing multiannual crop rotation including legumes and other green manure crops. On the other hand, shaping landscape structure is an important element of farm management in order to prevent wind and water erosion and enhance water balance. Apart from creating mid-field water reservoirs, different agroforestry practices are implemented here. In recent years, 5 kilometres of hedges (78,000 square meter) and about 5,000 solitary trees have been planted on the farmland. Moreover, natural stands of mid-field trees are maintained, particularly the ones around marshy areas and water reservoirs. An additional advantage is greater biodiversity, especially where plants, insects, birds and reptiles are concerned. 
Tree species encompass both fruit trees and common forest deciduous trees. These are planted in belts and in copses on hilltops. We can find here alley cropping systems as single row belts, planted on grasslands as well as between fields. Tree species, properly selected for the habitat, include lime, birch, oak, beech, European hornbeam and horse chestnut.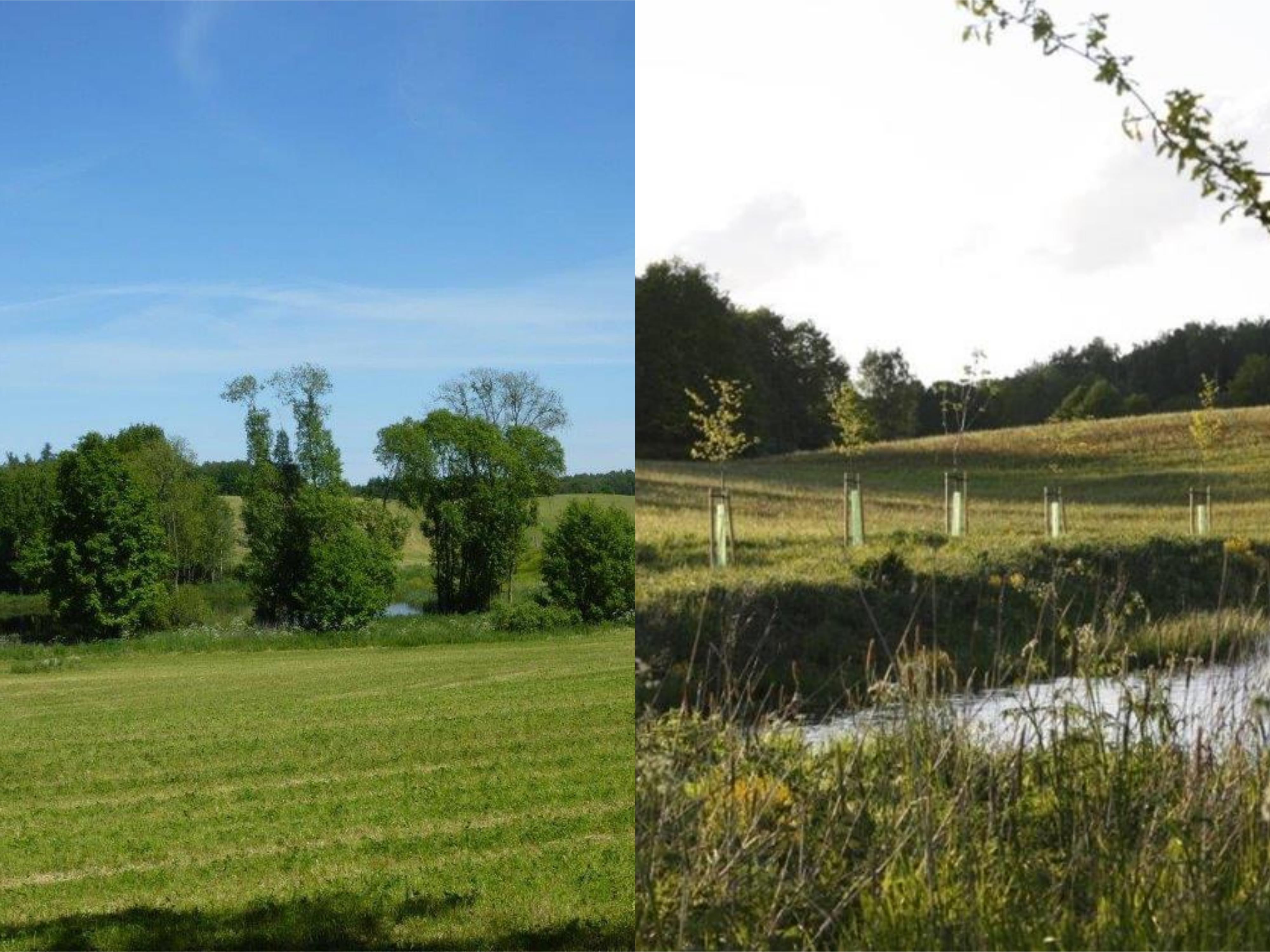 Multifunctional belts in the form of hedgerows acting as buffers against erosion and wind are usually planted between fields. They also protect natural habitats and apiaries sites, which are particularly susceptible to environmental influences. To create hedgerows both trees and bushes are planted. The bushes have edible fruits or nuts and are adapted to the conditions within the hedge.
The foundation carries out research activities, supports ideas of organic farming as well as cultural and educational exchange.
If you are interested to learn more about "Juchowo Farm", please info [at] juchowo [dot] org (contact directly the farm).